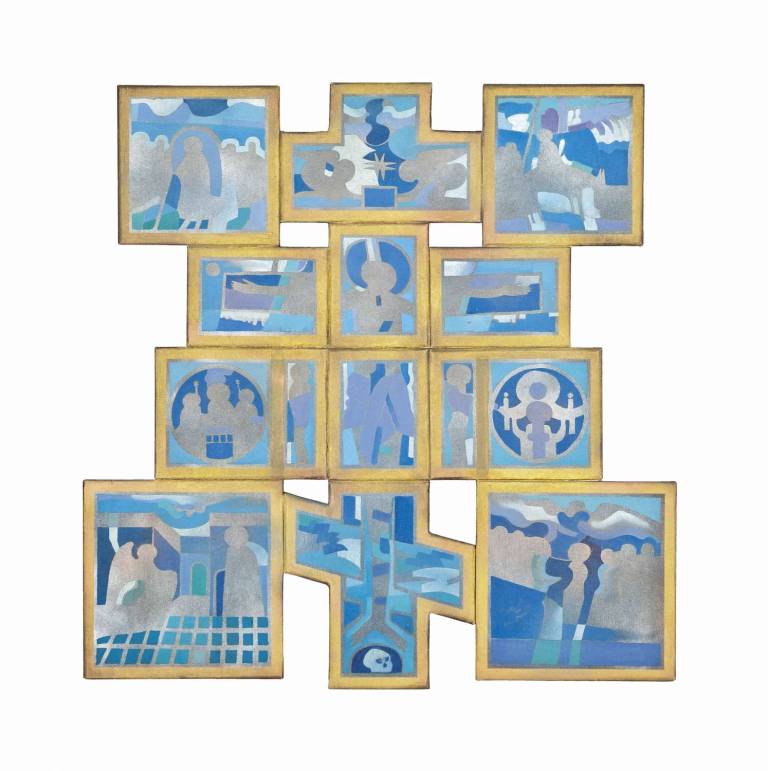 Robert Henry Lee (1915-2007) was an artist-craftsman who worked in two and three dimensions, including sculpture, painting, collage, and wooden-framed structures, or 'assemblages', containing things he had made or found. His subject ranged was wide, spanning landscape, still-life, abstract, religious subjects, and portraits.
He was born in Bingley and attended Bradford College of Art, 1932-37, taking examinations in industrial design, drawing and pictorial design. He went onto study at the Royal College of Art, 1937-40; his tutors included John Nash, Edward Bawden, and Eric Ravilious.
Lee served in the Royal Artillery Signals during WW2 and was captured in the Western Desert and sent to Germany, where he witnessed the bombing of Dresden and was forced to bury the dead of Freital, a suburb of the city. Two hundred German civilians were killed, mostly women and children. This had a profound influence on his life. In 2003 he told a local journalist:
This was the most terrible event of my life engraved forever in my memory among a mass of horrific experiences.
After the war he returned to the Royal College of Art in 1946 for a fourth year, supported by a scholarship. When he graduated he taught art at Hammersmith College of Art before returning to Yorkshire to work at Heckmondwike Grammar School and to lecture at Batley School of Art. He was appointed Deputy Head of the School of Art, 1957-1969. He moved to Bingley College of Education as Principal Lecturer in Visual Arts, 1969-1979. He was also Part time visiting lecturer at Huddersfield Polytechnic, Bretton College and Bradford and Ilkley College. 1980-2005
Between 1950–1970s he was a regular contributor to exhibitions in Yorkshire, including Yorkshire Artists Exhibition, Leeds City Art Gallery; Spring Exhibition, Bradford City Art Gallery (Cartwright Hall); and Wakefield City Art Gallery.